It is clearly apparent that Tanzania is open for business and has many opportunities available for investors.  The Tanzania Investment Centre is a one-stop shop that will assist investors with their set-up in the country.
---
TRADE MISSION TO TANZANIA AND ZANZIBAR
---
Introduction
Members will be aware that the Association, after a three-year hiatus, took a Trade and Investment Mission to Tanzania and Zanzibar.  While attendance was poorer than expected, those who did come found it to be both interesting and enjoyable and certainly returned to their respective countries with a much better understanding of the new Tanzania under the leadership of President Samia Suluhu Hassan.
What is extremely clear is that Tanzania is open for business and is completely committed to attracting Foreign Direct Investment into the country.  This was best demonstrated by the fact that on day 2 of the Mission, we had 8 Ministers from the Government selling the virtues of the investment climate in the country elaborating on the numerous opportunities available.  What was most refreshing was that all the Ministers clearly spoke from the same playbook and delivered the Government message as one.
In Zanzibar, the Mission had the honour of an audience with President Hussein Ali Mwinyi with whom a frank and open discussion was held and who reiterated the fact that Zanzibar and indeed Tanzania was open for business.
Why invest in Tanzania
The message from the Tanzanian Government on why the country is an attractive investment opportunity was based around several facts.  The country is strategically located bordering 8 countries with a population of approximately 61 million people, which is estimated to be growing at 3.2% per annum.  Tanzania is a Member of the East African Community (EAC), a market of 162 million people, and also a Member of the Southern Africa Development Community (SADC) a market size of nearly 450 million people.  The country is politically stable, particularly since the new regime came into power a little over two years ago, and above all peaceful.  The idiosyncrasies of the previous regime seem to have been gradually erased and the country appears to have changed path completely.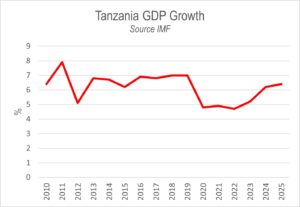 The country has an economy that has been expanding over the last ten years with growth pre-Covid averaging 6%-7%.  Key sectors of the economy include, agriculture, tourism, extractives.  The Government is developing a blue print for Foreign Direct Investment and strongly believes that the private sector will be the key to future growth.  One area of focus is the development of the country's Information, Communication & Technology infrastructure.
Inflation, at least according to Government figures, has remained within the Government's target of 4%-8%.  The Government projects that inflation will remain "within the range of single digit".  The Tanzanian Shilling is largely stable perhaps due to intervention by the authorities.  Tanzania has at least 4.3 months of import cover, even though the Government acknowledges this has been declining with increased import costs, particularly on fuel.  Credit is readily available to the private sector and indeed grew by 22% in the 12 months ending 31st December 2022.
The aim, according to the Tanzanian Investment Centre, is to create an industrialised economy and make the country a logistics hub for Africa.
Tanzania is rich in natural resources such as gold, diamonds, and other minerals.  The country also has a large agricultural sector, with significant potential for growth in areas such as agribusiness and food processing.
The Tanzanian Government has implemented various investment incentives to attract foreign investment, these includes tax breaks, duty exemptions, and streamlined business registration processes.
The country has been investing heavily in its infrastructure in recent years, including roads, ports, and airports.  This has improved connectivity and logistics, making it easier for businesses to operate and transport goods.  The new international terminal at the Dar-es-Salaam airport did seem to be efficiently run and was constructed to a high standard.
Meanwhile, the country "continues to improve the investment climate through regulatory reforms" according to the February 2023 Investment Bulletin issued by the Government.  This includes a new Bill to amend the Public Private Partnership Act which will remove the requirement for a 3% deposit of the project value, increased tax incentives, allow aggrieved parties to choose their own dispute resolution mechanisms, and establishment of Special Purpose Vehicles.  The new Tanzania Investment Act has been enacted repealing the 1997 version, which also offers more generous incentives and lowers the investment threshold to USD 50,000 for local investors, among other provisions.
Specific opportunities
Health
The World Health Organisation rates the Tanzanian health care system at ML3 which means "a stable, well-functioning and integrated regulatory system is in place".  However, there are few generic products registered and a limited number of sterile manufacturing plants.  The sector relies almost exclusively on imports of medication and equipment.  Accordingly, there are several opportunities available including
"We would like to encourage our esteemed (potential) investors to utilise the existing investment environment, opportunities and incentives to establish investments on medical products in Tanzania".  Ministry of Health Presentation during the EAA Mission
specialised training centres, provision of spare parts, chemicals, reagents, and various forms of other technical support.
Both financial (reduced import duties and investment tax allowance) and non-financial (set-up and other assistance) incentives are available.
Energy
The Deputy Minister for Energy in his presentation indicated that the Government plans to "increase power generation from hydropower, natural gas, coal and renewable energy sources including wind, solar and geothermal".  The key focus areas for 2025 and after are:
Enhance private sector participation;
Increase electricity connection from 37.7% to 50% by 2025;
Increase electricity access from 78.4% to 100% by 2030;
Transition to Clean Cooking 80% by 2033
Diversify sources of energy for electricity generation and supply;
Enhance affordability and reliability of electricity supply;
Establish a competitive wholesale and retail electricity market.
Increase electricity consumption per capita to at least 400kWh/Capita by 2025;
Promote regional grid interconnection through the EAPP and SAPP; and
More oil and gas business including development of LNG projects, EACOP, exploration activities and natural gas transportation.
This level of growth offers significant opportunities for both local and foreign investors which will service both Tanzania and neighbouring countries as the country seeks to export energy.
ICT
The Government is keen to deploy and utilise ICT in a bid to accelerate the digital economy.  With this in mind, the ICT focus is on policy, legal & institutional reforms; infrastructure development; utilising ICT for service delivery; human capital development; and acceleration of innovation and incubation programmes.
Under infrastructure development, the plan is to construct and deploy the National ICT Broadband Backbone, land two submarine cables in Dar-es-Salaam; increase fibre coverage from the current 9,928 km to 15,000 km by 2025, launch and enhancement of 3G, 4G and 5G networks and the establishment of a National Data Centre.
Tanzania is looking for investors and assistance in capacity building, PPP, equipment and manufacturing or assembly investment, expansion and upgrade of the Broadband network among others.
Minerals
Tanzania is blessed with an abundance of mineral resources most of which remain untapped and is ripe for exploitation.  These vast deposits are attributed to the country's geology resulting in availability of metallic minerals such as gold, iron, nickel, silver, copper, niobium, rare earth elements, tin, manganese, among others.  In addition, the country is endowed with industrial minerals such as phosphate, gypsum, limestone, kaolin, bauxite and graphite.  Coal, uranium and several gemstones are also found in Tanzania.
Global demand for critical minerals has seen the country increase its mining projects.  According to the Ministry of Energy, critical minerals mining projects have already started in the South and Northwest part of the country.  Rare Earth Elements Mining Operations are being developed in Songwe Region while Nickel and Cobalt projects are being developed in Kagera Region.  Meanwhile, other exploration activities are continuing in different parts of the country including the Kaparaguru Project in Rukwa Region.  The focus for the country is "to advance technologies for downstream processes in order to increase the level of value additions on our mineral resources", Ministry of Energy.
The industry is now moving from "primitive artisanal mining to high technologies using modern equipment" with significant Foreign Direct Investment in the sector.  The Ministry sees opportunities in exploration, mining, value addition and beneficiation, and mining support services.
In mid-April, Tanzania entered into contracts with an estimated value of USD 667 million with Australian mining companies to extract graphite and rare earth minerals.
Defence
Opportunities in this sector are perhaps more limited as the key focus, as would be expected, is the defence of the country.  However, there is a need for research, production of military equipment, and the supply of military products.
Zanzibar
The delegation was honoured to be officially welcomed by the President of Zanzibar, H.E. Dr Hussein Ali Mwinyi at State House.  The President gave a clear message that his Government was there to engage with international investors to create an attractive and open environment.  This message was reinforced during a high-level panel including Zanzibar Ministers for Labour, Economic Affairs and Investment, Trade and Industry, Tourism, Agriculture, Blue Economy and Fisheries and the Executive Director of the Zanzibar Investment Promotion Authority (ZIPA).
Members were also briefed by the Zanzibar National Chamber of Commerce on the legal, tax and investment regime, with some 40 local companies attending the meeting providing more B2B opportunities.
Conclusion
The Mission highlighted how recent reforms by the administration of President Samia Suluhu Hassan in Mainland Tanzania and Dr Hussein Ali Mwinyi in Zanzibar are starting to bear fruit, making Tanzania an exciting investment destination, and an interesting gateway to East and Southern Africa.  Clearly challenges remain in terms of underdeveloped infrastructure amongst other areas, but as is often the case, these are also an opportunity for investment.
With all these developments, it is clearly apparent that Tanzania is open for business and has many opportunities available for investors.  The Tanzania Investment Centre is a one-stop shop that will assist investors with their set-up in the country.
This is a commentary and comments are welcome by email to info@eaa.co.ke