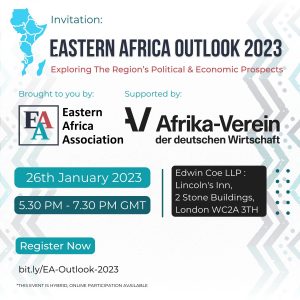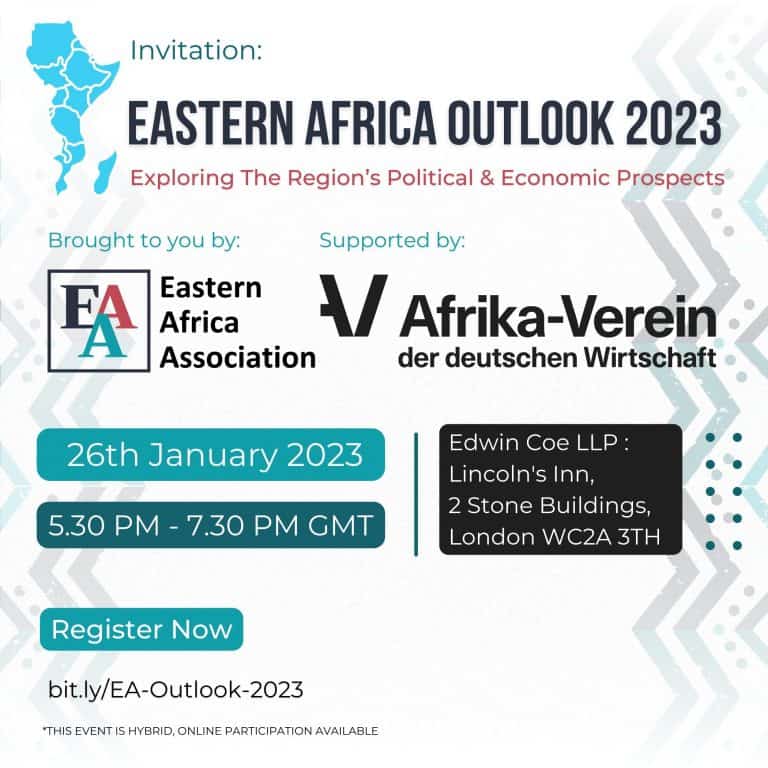 Dear Friends and Colleagues,
A very happy New Year to you and thank you, in the first instance, for your continued support of the Eastern Africa Association (EAA) over the years. We are always grateful for it. Thank you.
To begin this year's schedule of events, The Eastern Africa Association and Africa Verein are very pleased to invite you to the first of our panel series on the political and economic outlook for Eastern Africa in 2023 on 26th January (17:30 -19:30 GMT). The session will provide an authoritative view of what the year holds in store and practical insights for businesses in the region.
Countries in East Africa experienced high inflation pressures due to several disruptions caused by a range of internal and external shocks, including adverse weather conditions, rising rates of inflation and higher borrowing costs. Regional conflicts and tensions, currency volatility and disruptions in the supply chains also played their part, with the Eastern Africa region recording slower economic growth of 4.0% against 5.1% in 2021. There is a strong likelihood that some of these factors will continue to affect the region's growth prospects in 2023.
The purpose of our panel is to examine opportunities in the region in the light of these realities, and how the region can position itself, through trade and investment, to lead Africa's growth. The Speakers will discuss, amongst other subjects, the following:
Will unresolved conflicts in some of the EAC countries and global geopolitics affect regional stability?
Climate change and food security: an opportunity for collaboration between the Private sector and Governments
Key drivers and constraints that businesses must look out for in 2023
Financial pressures and rising sovereign debt, impact on public service
East Africa's trade competitiveness within the Africa Free Continental Free Trade Agreement (AfCFTA):
Venue: Edwin Coe LLP: Lincoln's Inn, 2 Stone Buildings, London WC2A 3THDate: 26th January 2023Time: 5.30 PM – 7.30 PM please register by completing the form here: RSVP link
There is an opportunity to participate virtually, zoom link will be emailed once registration is completed here. Please indicate you intend to participate online by writing to info@eaa-lon.co.uk Afrika Verein at nitardy@afrikaverein.de 
About the organiser:
Eastern Africa association is a membership industry organisation established in 1964, we have decades of experience advocating for good business in the Eastern Africa region. We work closely with regional players including Governments, Academia and Private sector to promote trade and investment flows into the region.
To join our network, please complete the membership form